Welcome to Etz Chaim Jewish Primary School
Admission arrangement details for 2015-16 can be found in our Virtual Office
At Etz Chaim Jewish Primary School we provide a high quality of education and care for all of our children. Through a fun and creative curriculum which challenges and motivates our children we develop their skills so they can be the best they can be. We want them to be active and good citizens and achieve success now and in the future.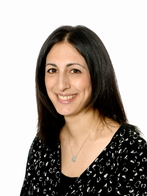 We want our children to have the very best. We are very excited about our fantastic brand new building we have designed with great ICT facilities including a Learning Resource Centre, Interactive Whiteboards and I-Pads. The children have fabulous opportunities to experience learning first hand both in school and the local environment as well as many enrichment activities to inspire in each child a joy for lifelong learning.
Our families represent a broad spectrum of backgrounds. We celebrate the Jewish values we share, and explore the differences that make each of us unique, through understanding and respect of the many practices within modern orthodox Judaism.
We hope you will find the information on our website useful, but do not hesitate to contact us if you cannot find what you are looking for or if you would like to visit the school.
I look forward to meeting you at forthcoming events and working with you and your children in the years ahead.
Yvonne Baron MA NPQH